South Texas Business Leader Named President of Water Quality Association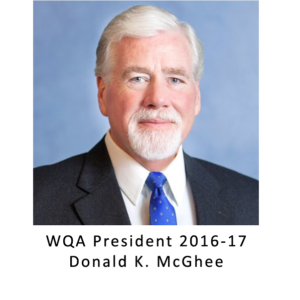 South Texas Business Leader Named President of Water Quality Association
The Water Quality Association (WQA) named Donald K. McGhee of Harlingen, Texas, as its next president. Mr. McGhee, a master water specialist (MWS) and long-time WQA volunteer will serve as the Association's president through March 2017.
Don McGhee is the principal of Hydro Systems Inc., an industrial and commercial water treatment equipment and service provider in Harlingen, Texas. Established in 1978, Hydro Systems, Inc., serves a domestic and international client base, specializing in brackish water desalination, industrial water recycle and reuse and industrial water processing applications. He is also a managing partner at Turbidex®/Hydro Source LLC, a zeolite filtration media supplier with distribution around the world.
McGhee, who has a strong passion for water quality issues, also serves on WQA's board of governors, the Texas Water Quality Association's board of directors, and the Rio Grande and South Central Regional Water Planning Groups of the Texas Water Development Board. During his presidency, McGhee aspires to elevate WQA's position as a resource to consumers affected by water quality crises such as Flint, Michigan.
"Here in the United States, water quality issues have been making big news as a result of the drinking water crisis in Flint, Michigan," says McGhee, an 18-year-member of WQA.  "By promoting the use of water treatment products certified for the removal of lead and professionals trained to properly address water quality issues, we firmly believe the Water Quality Association can be of great assistance during this crisis and the impending future issues like Flint's as our water distribution systems are challenged with stricter standards and an aging infrastructure."